Its been ages since I've blogged, been busy with different projects and work is busy, something to do with the forthcoming festivities, I reckon.
Finally got some pictures for you.
The Cheshire Cat, Innkeepers Lodge at Chester.
The barges on the canal at the side of the inn.
The wonderful autumn scenery at Chester
The cape is on hold for the moment. I have mixed views on it. I have a feeling that I may look a cross between Sherlock Holmes and Miss Marple. Other projects have become more important so its still on the needles as we speak.
I have been designing and knitting for the next issue of '
knitonthenet.com'
which is due out in the next few weeks. Which I'm sure you will find interesting!!!!
I am selling my house at the moment so a lot of things are packed away. The weather has become increasingly cold and I found out I had no hat and scarf, voila a new hat and scarf knitted in Bouton D'or, Eskimo. Knitted on 7mm and 10mm needles it was quick to do and the yarn has a lovely feel and is really nice to work with. The beret is an adaptation of a pattern in the second issue of 'Lets Knit'.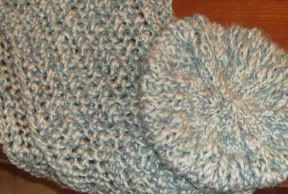 Easy Scarf Pattern
Using Bouton D'or Eskimo and 10mm needles cast on 20sts.
P1st, (*yrn P2tog) repeat from * to last st P1
Repeat this row to length required cast off knitwise.
Takes 3 to 40 50gm balls depending on length required.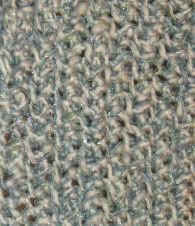 (This pattern is very easily adapted using different thicknesses of yarn together, and different sized needles the possibilities are many).
I am also working on more Christmas tree decorations, as my tree goes up on the 1st Decembermas without fail. They are all made in crochet from Twilleys Goldfingering, I have used single yarn thickness and have stiffened them with craft wire. Saves on using excess yarn as it can be quite expensive.
I have also crocheted a Gothic style cross to hang in my window above the tree.
I am still working on more decs and am making a green cardigan to wear with a green dress on Christmas day.
Catch u all soon
Happy Knitting
x