Hiya
Well tweakers the cream cardigan is finally finito!!!!!!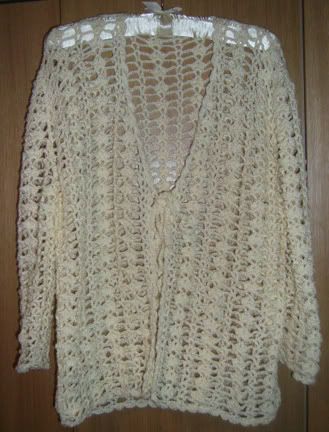 I have found a pattern in Novembers 'Knitting' mag which I have started. Its an aran cape!!! Its very adventurous for me as I tend to wear ordinary run of the mill stuff. Its in an olive green colour. It is already progressing quite quickly. Whaddya think?
I have to confess I have frogged again!! A few blogs ago I mentioned that I was doing the hubby a red slipover, well, he wasn't too bothered about it, I couldn't find the magazine it was taken from, and so it is now back in the ball, so to speak. I still have a few unfinished things but I do like a variety for my complex moods ha ha!!!
Catch u soon
Love Aruba Blue x